Travel Tips
Rio de Janeiro is the most beautiful city of Brazil, surrounded by lovely hills and beaches. Many people travel to the city for its famous beaches like Copacabana and Ipanema. In addition, the most stunning view of Rio and Guanabara Bay can be seen from the top of the Sugar Loaf Mountain. In addition to countless attractions, the city of Rio is also famous for a wide range of bars, clubs, lounges and special musical events in night. Overall, the city is a perfect vacation destination full of timeless attractions, long beaches and the craziest nightlife in the world.
Safety
In this beautiful city, one needs to be concerned about safety especially whilst travelling on foot.
Security Tips
1. It is advisable to avoid unnecessary exposure of valuable and expensive items in crowded areas. Do not carry valuable items like cameras, branded watches, credit cards and try to dress like a local Brazilian.
2. At night it is not wise to travel in public transportation, a safer option is to call a taxi.
3. Do not leave any luggage unattended in a crowded area and/or famous tourist areas.
4. For security reasons, it is good to take out money from ATM machines that are placed inside buildings, banks or shopping centres.
5. It is always safer to visit city centers and famous tourist attractions in the daytime and dangerous areas should be avoided at night.
Tipping
Generally, Tipping is not compulsory but expected. Service charges (around 10%) are added to hotel or restaurant bills at the end. Additional tips can be given just to appreciate good service or to round up the bill to a whole number. Also, it is not obligatory to give tips to the taxi drivers.
City Transportation
Buses and subway are the cheapest means of transportation in Rio available in both forms, i.e. A.C and non- A. C versions. In the daytime, it is safe to explore famous places via buses that run on major routes but travelling at night is not too safe. Here, local buses are also known as the Frescao that run frequently in peak hours on different major routes of the city.
Emergency Numbers
| | |
| --- | --- |
| Calling Code | 55 |
| City Code | 21 |
| Fire | 193 |
| Ambulance | 192 |
| Police | 190 |
| Hospital de Ipanema | 21 3111-2334 |
| Hospital Copa D'Or | 21 2545-3600 |
AIRPORTS
Santos Dumont local airport – (SDU)
Galeao International airport – (GIG)
TRANSPORT
Santos Dumont local airport – (SDU)
Galeao International airport – (GIG)
Electricity (voltage)
The voltage is 110 volts. A plug adaptor is important for some electrical devices.
Brazilian electrical outlet sample: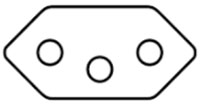 Car rental
The main car rent companies have branches in Rio de Janeiro . The reservations shall be carried out in the origin places. If the visitant needs a car for one day or two, it can be arranged by the hotel receptionist.
For rating: www.riodejaneiro.com/car-rental
Banks
Banks are open from 10 a.m. to 4 p.m. during the week, but they don't open on weekends and holidays.
Before travelling, the user must inform the credit card administrator about traveling in Brazil.
ATMs are found almost everywhere and credit cards are widely accepted.
VACCINES
Yellow fever is a risk in certain parts of Brazil, so we recommend the yellow fever vaccine for travelers at least 3 weeks before travelling.